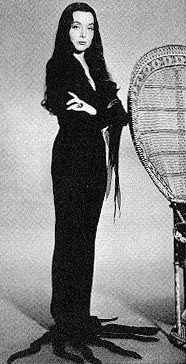 I am wondering how many adults out there who no longer have kids at home actually dress up for Halloween. I have longed for those days when it was okay to put on a costume or portray a new look for the holiday. I would love to be Morticia Addams...just for one night. Of course, I'd have to lose quite a few pounds, grow a lot taller, lose the curly hair, grow it long and die it black. So, forget the Morticia Addams dream.
Since I have become an adult, I have dressed for Halloween on a couple of different jobs I worked at. We normally had a theme. I remember one year, our theme was Pajama Party and everybody had to wear their favorite flannel p.j.'s and house shoes. My house shoes were a pair of fuzzy Pekingese House slippers that looked exactly like the little puppy above. We were scheduled to have a finance meeting that day. I was in with the boss for the meeting. As I sat there taking notes, I noticed he kept getting distracted. Finally, he laughed and said "Let's reschedule for Monday. I can't have a serious discussion with you while you have those hideous things on your feet." We adjourned.
My sister and I have started a new blog together. Stop by and follow us at
Piggy and Wiggy's Place
. Yes, there is story behind the name, but you can read all about it on our blog. We will be using this blog as a place to feature good deals we find, thrifty treasures, crafts we make, trips we take, home decor and new recipes we try.
When you visit
Piggy and Wiggy's Place
, check out our Pampered Chef giveaway that ends on October 14th. Some neat little accessories to make your holiday baking easier.