Not a good start to my morning. I woke up at 6:17 after having a wonderful, restful night. It is rare that I don't wake up during the night so I was so glad to have slept through the night.
I sat down about 6:30 to start my day and decided to update my blog look. It did not go well. I switched to another free template site that I don't normally use and it made my blog go wacky and I could not get it to go back to my original one. I ended up with my flower look that I had yesterday, but it had some of the attributes from the one I was trying to switch to and I could not get rid of them. Then it switched and put a winter background that I used two years ago. It was a mess. I finally just switched to a standard blog template from blogger. I will give it a few day, run some virus scans, clean my cookies and temp files and then try to install using the blog template service I normally use.
Anyway, I apologize if you stopped by during that mess and got confused on what season I thought it was. Hopefully my blog is not broke anymore. So, on to my post for the day....
I am not sure how your weather is, but we are experience some fall like mornings and fall like evenings, though we are still enjoying summer in the daytime, just not quite as much humidity as what we have had this year. So it has been pleasant. But it is making my mind turn to thoughts of fall. It won't be long and the leaves will begin to change and fall decorations will start showing up in the homes and businesses around town.
I (of course) have been checking on Pinterest for some new ideas for fall. Here are a few things that caught my eye.
I could make this. It doesn't look too complicated. You can find the leaf pattern and a link to the directions at
Martha Stewart
.
This looks like it would be so easy. I am going to do one with fall material and paint the legs orange and set it on the front porch with a little planter or pumpkin on it. I think that would be cute. I may also make one for the back deck only buy a small vinyl tablecloth in fall pattern and cut it to size so it won't matter if it gets wet. I'll use some type of paint on the legs that is outdoor paint.
The blog site that this came from no longer exists so I couldn't find directions, but it looks easy enough. They are adorable.
And this is probably one of the easiest pumpkins ever. Even I could make these and I don't have a lot of talent.
Now I know without a shadow of a doubt that I could accomplish this. You could do candy corn for October and the popcorn kernels for Thanksgiving. I love this. It would be pretty on a tray for a centerpiece for fall.
This gives me tons of ideas. You could also put a pumpkin or candy corn button instead of a sea shell. You could also cut a strip of fall material and hot glue around candle then tie with the raffia. Tons of thoughts on this.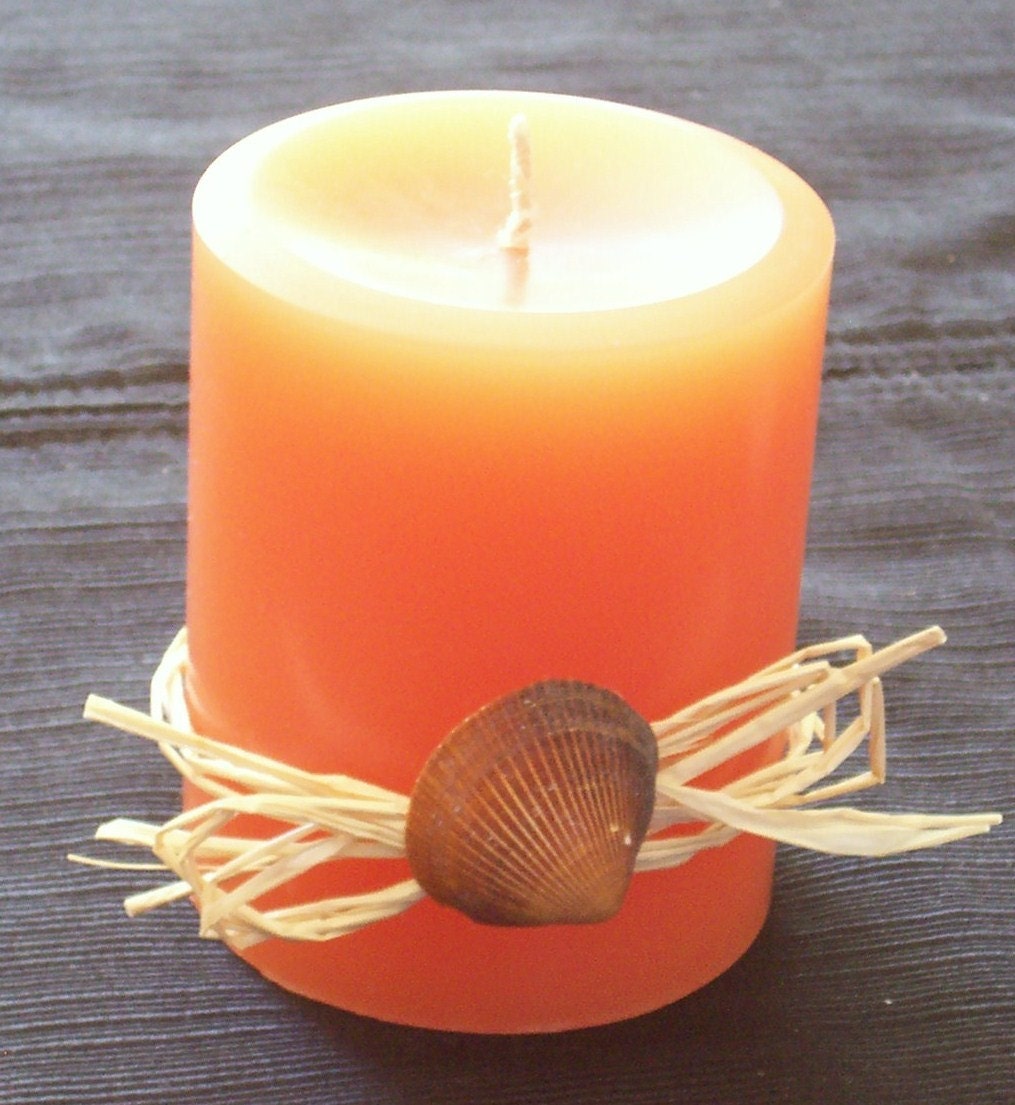 I am on idea overload. Guess I need to make a trip to Hobby Lobby.