When we were growing up, Mom had a set of Melmac (also referred to as Melamine) dishes that we ate off of everyday. I remember when she got her first set of Corelle and we were all so glad to quit using the "plastic" dishes. Now the melmac craze has hit vintage collectors everywhere. What used to be considered cheap dishes are now quite the rage. I am still trying to find me a small set for those occasions when we want to eat outside and I don't want to risk take the good dishes out there.
I spent some time on EBay and Etsy doing a search for Melmac Dinnerware Sets. I was amazed at how high the prices were for what used to be considered the "cheap" dishes.
Here are some from EBay.
This pretty pink set is marked at $54.95.
Since we all know anything in the original box adds value, I guess that is why the seller thinks this will go for $99.00.
I love the turquoise in Melmac and would love a set like this. But not for $48.00.
This turquoise and brown is pretty but not $99.00 worth of pretty.
The rest of these were found on Etsy.
This isn't a complete set so the price is only $20.00. I do like this pattern real well. It is a change from the normal floral that was seen so much on Melmac.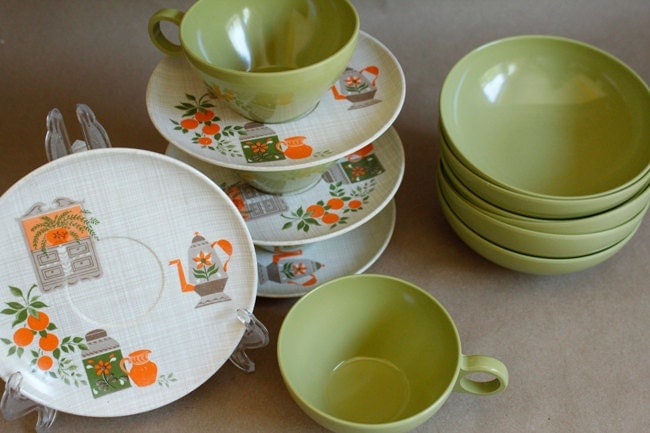 This set in the box is only $32. Of course there are not as many pieces, but I do love this pattern.
For $40.99, this is a unique pattern. It is not something you normally see in this line of dishes.
This is a nice set for $40.00
This is really vintage looking to me. It is $42.00.
This is another of my favorites. It is $49.00.
I would love to find a set like this. It is $52 which I still think is too high, but I love the woven look behind the flower design.
They just have one of these saucers left, but oh how I love this pattern. But $7.00 for one saucer? I don't think so. And that was without shipping.
Here is another box set service for 4. It is $76.00. I love the color of the cups but not fond of this flower pattern.
And this pink set is absolutely gorgeous with a price of $85.00.
I'll keep hitting thrift stores and yard sales this year to find me what I want. I don't need a whole set. Just a couple of plates and a couple of bowls would make me happy.