Hubby and I have a standing date every Friday. We don't do a lot, but we try to go somewhere or go out to eat or something. But a snowstorm, an ice storm, torrential downpours and a tummy bug have kept us from our "date" four weeks in a row. We are going out today and I am so excited. I don't know where we will go or what we will do, but I'm hoping to eat at Applebee's, Texas Roadhouse or Famous Dave's.
Hubby hasn't gotten to go antiquing or thrifting since he decided to collect milk bottles. So we may go to that big flea market I was telling you about or to a local antique store. He has several bottles he wants for his collection, but the one he wants to find the most is something with Borden's on it since we were both raised on Borden's milk. And if Elsie the Cow is on it, he will be even happier.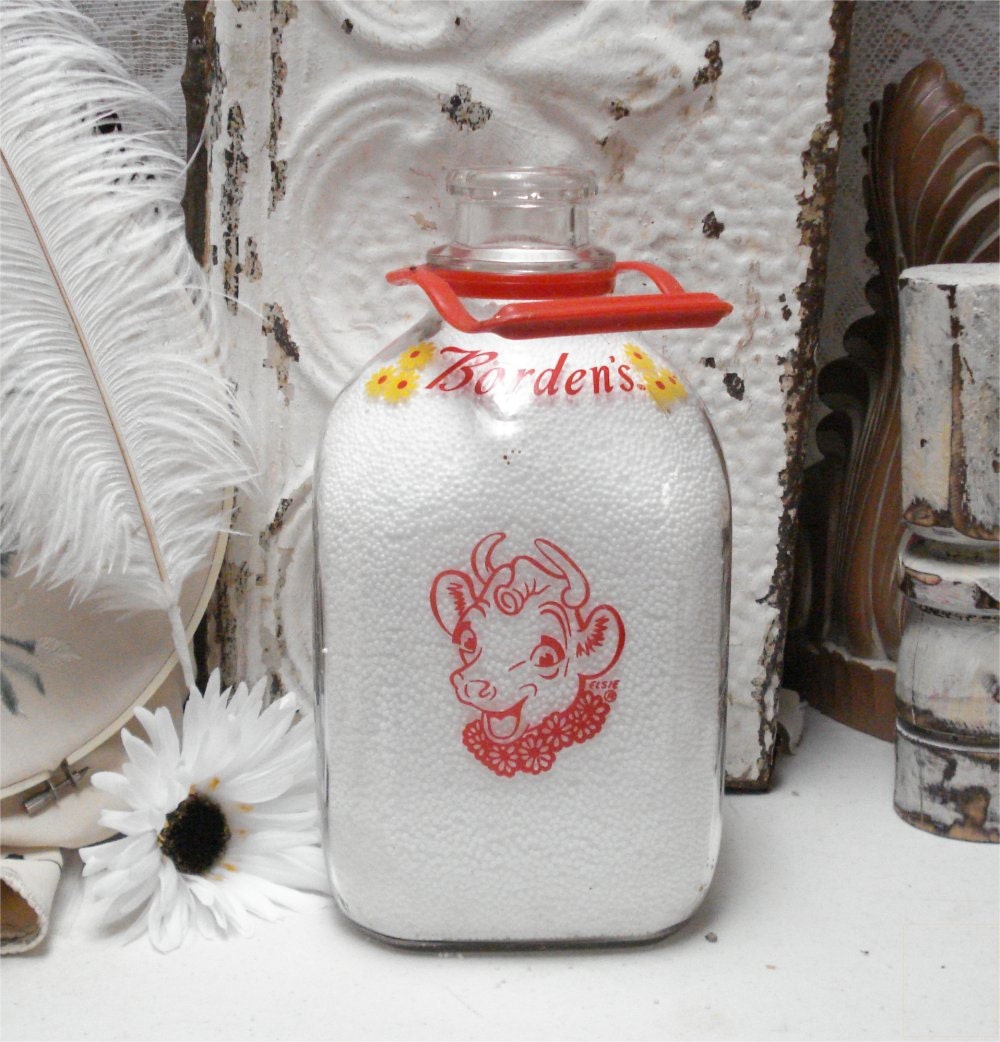 And if we do, I may just have to keep my eye out for some Pyrex. I told somebody the other day that I was becoming a Pyrexaholic. Doesn't that sound like some kind of dinosaur?
We did use some of our Pyrex for supper last night. It was delicious. We had breakfast for supper.
We tried some Lay's Bacon that was on sale for $2.99 which is an awesome price for bacon. It was out of this world. I'm thinking a bacon sandwich for breakfast today with the leftovers.
For dessert, I had some of my newest addiction. Luigi's Orange Sherbet. Low fat and vitamin C and the best stuff you will ever eat. The thing I love about it is that our Food City carries it for 10 for $10. That means I can get them for a buck a piece. I could easily eat one pint at a time, but I usually stretch it out for 2 or 3 servings.
Though last night, I ate 1/2 the carton. One good thing about the amount I eat, it is giving me a reason to use all those coffee cups I keep buying that I don't drink coffee from. Now that I have found a good use for my cups, I'm going to start buying some more that catch my fancy. This is my favorite one.
I got some new goodies to share this week. I love when I go to the mailbox and get a freebie. The VFW sends me labels all the time, but this week they sent me a new calendar. That is one organization I do not mind making donations to. Isn't this gorgeous. It's going in my purse this morning.
I also got a new nail file in the snail pattern and a new key fob in Island Damask from Thirty-One. I love them.
But the most exciting thing is my new Timeless Wristlet. I absolutely adore it. It is going to be my "go to" piece for shopping in flea markets, yard sales and antique stores. No bulky purses to get in the way. My cell phone fits perfectly in the little pocket and the wristlet strap makes it so easy to carry. This is the new Party Punch pattern which is the new Chevron rage this year.
And the inside has plenty of pockets for ID, cards, cash or change.
Well, time to eat some breakfast and get ready for my big date today. Happy Friday!