March is a week away, but if last night is anything to go by she is going to come in like a lion. There were some ferocious winds out there overnight.
It's still raining, but it should be moving out sometime today. It looks like the worst has past through and we are left with rain, which they say will move out around 9 or 10 this morning.
It's a good morning to scout for Pyrex. E-bay has this set of snowflake garland Cinderella bowls for $300.00. No way would I pay $300 for a set of bowls, I don't care what they are.

Another person had the same set for $115 That is still out of my budget but makes more sense. People should really check the competition before they set the price. Especially if you are trying to say they are rare when they aren't.

I especially love when I see something like this for $100 and I have that set. Mine cost me $6.00 for the whole set. I married into one of the pieces, a niece got me one piece, a friend got me one piece and I paid $6 at an antique store for the remaining piece. What a deal!

I did see the Pyrex Hamilton Beach small mixing bowl on E-bay that I have been looking for. I found the large one for $12 at a local antique store. But this one has been very elusive at a decent price. No one is bidding on it and the bid started at $11.19. It does have free shipping so I may just watch it and see if I can grab it at the last minute.

I have had some of the Early Americana pieces and used them for trade. I wish I had kept this one. I may have to look for another one. This is just $6 on Etsy, but the shipping is what prevents me from buying online.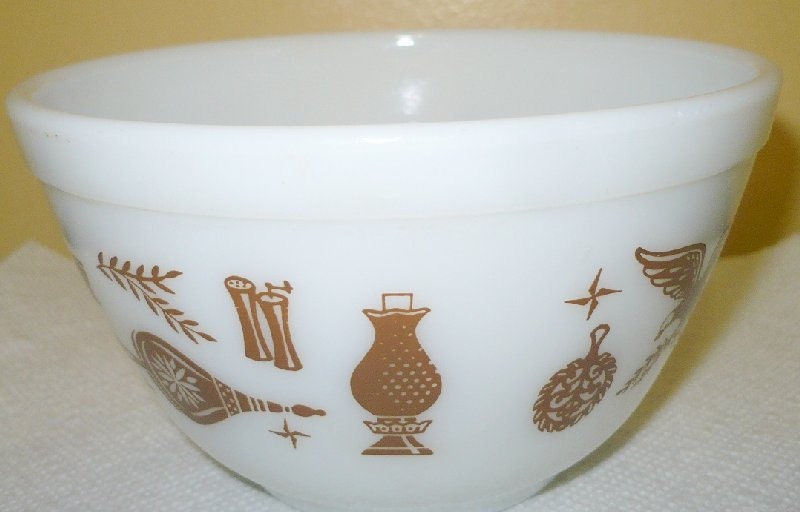 Right now, the item that is at the top of my wish list is the Rooster Black pattern. I want this piece to add to my collection, but it is very hard to find. When you can find it online, the price is so bad you can't afford to get it. But it is my current dream piece.
Well, that's my Pyrex surfing for the day. Have a great day everyone.