I love finding new ideas to use something you might have or find for something it wasn't originally meant for. I am obsessed with mini muffins right now and keep looking for someway to store my cute little muffin pan liners. Love the idea of the mason jar.
These are spice racks that are used for nail polish storage instead of spices. Having over 60 bottles of nail polish, this is a great idea for me.
I have so many pairs of various size scissors but I can never seem to find them when I need them. I like the idea of the magnetic strip. I think I will check out where to find this.
Who would ever have thought of an old magazine rack for muffin pans. I need to do this. I have so many muffin pans and cookie sheets and I am forever digging for what I need.
I see so many beautiful wine cabinets but I don't drink wine so I always wonder what you could do with one. Well, check this out. I never thought I would say "I need a wine cabinet." But apparently I do. My yarn needs to be more organized.
Check out this dessert pedestal. It is two plates and between them is a spray painted tin can. I love it.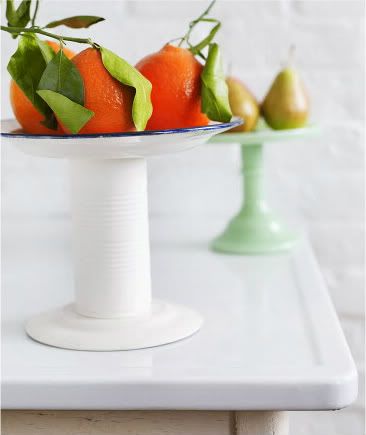 I have always wondered what could be done with old coffee containers. I love the shape of them but never thought of a way to use them. This is awesome.
What items have you repurposed around your house?