All things French
I am obsessed with France lately. I am not sure why. My maiden name is Garretson and we were able to trace our ancestors back to Guillame de Garrison from Montebaun, Guyenne, France. He was born in 1545 and died in 1582. According to what my cousin found in archives, one of Guillame's descendants came to the U.S. in the 1700's and Americanized the de Garrison to Garretson. Maybe that is why I love France. It is just funny the things that I have liked over the years that are French. One is Arcopal France, which is the France version of Pyrex.
And I love things with the Eiffel Tower. I posted a necklace that I bought this weekend on yesterdays blog. But check out this adorable pair of scissors.
And look at this cute embroidery pattern for machines.
Here is another cute necklace of the Eiffel Tower.
And for years, I have loved the paintings by Monet. This is one of my favorites.
One of my favorite romance novels was
Tangled Vines
by Janet Dailey. Even though it was written about a vineyard in Napa Valley, the vineyard history was from France so I loved it.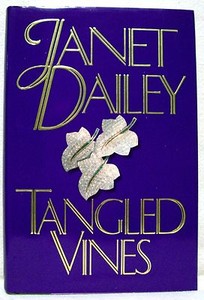 And to me, the French country side is breathtakingly beautiful.
You will see a lot of roosters in a French Country designed kitchen and I have had roosters in my kitchen for years.
The French furniture designs over the years are usually with a lot of flowers. And that is one thing I love in my decor and it is flowers. I would love to find a chair like this for my home office.
I would love to visit an authentic French bistro some day.
I would also love to visit a French pastry shop.
Maybe some day.