There are certainly some things that you inherit from your mom and your grandmothers. That is the case with me. I have so many things that my home can NEVER be without. To me, I find great comfort in the familiar when I am home. For example, I have crocheted doilies all over the place. They are end tables, tops of shelves, dressers, everywhere. I love my doilies.
Yarn. I learned to knit from my mom when I was younger and I still love doing it today. Especially with warm scarves for winter. I just love a knit scarf. I don't do it much anymore and it can take me 7 years to finish a scarf. But I always have knitting needles and yarn for when I am ready to pick up and knit awhile.
Tablecloths. Mom and I are so much a like. We rarely do placemats. We love our tablecloths. And if it has roosters on it, that's even better.
Aprons. Enough cannot be said about the wonder of aprons. I have about 8 or 9 myself. A woman can never have enough aprons. Seeing this picture also reminds me how we always had things hanging on the line. Not very many people still use a clothesline today.
Lace curtains. Oh how I love pretty lace curtains.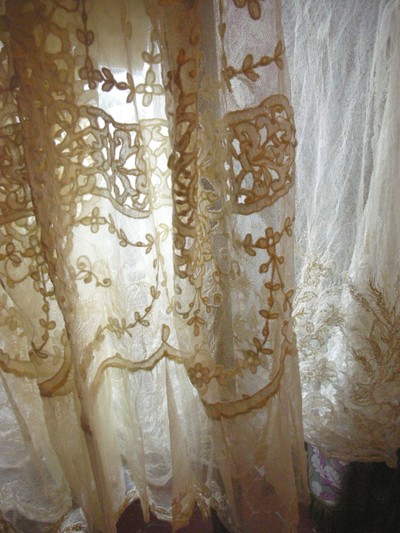 And thanks to my Mom and my Mamaw Eden you will always see artificial poinsettias in a vase somewhere in my house from Thanksgiving through Christmas.
Embroidered scarves. I love to embroider. I remember mom making doilies, pillow cases, scarves, dish towels, tons of awesome stuff. I haven't done this in years. I need to do it again.
A crocheted afghan is a must in any home in my mind. I have one like this that is oranges, browns and golden yellow for fall. Mom and Mamaw Eden made these a lot. I have never learned to crochet so I can't make them. But I do love them.
The primary set on the Pyrex mixing bowls. Mom used these so much. Me and my sister can remember what she used each one for. To me the yellow one always brings back memories of homemade peanut butter cookies where she had to cover the mix and put it in the fridge for 3 hours before making them. The red always was used when she made her homemade chocolate cake icing. I have a set like it and I ALWAYS use the red for that same recipe of icing that she handed down to me.

So many wonderful memories just from walking around my house and seeing some of the same things that Mom and Mamaw Eden had.