I have not made it to many yard sales this year and I haven't visited the local antique stores as much as I had hoped. I may spend some time doing that this morning. I did get a chance yesterday to stop at a couple of yard sales. I got quite a few goodies. I will post all that on my weekend wrap up. But I am especially excited about my Barrington Bear Witch. Here is a stock photo of her.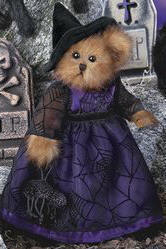 She is huge compared to what I thought she would be. Here is the actual photo of mine. She is setting in a little chair in the Grandchildren's room. I can't wait until Halloween to show her off.
We are going to have a lot of fun in Children's Church. We are working on a special secret project and will get to use tons of pipe cleaners. The kids will love it. I'm heading out to get a bunch in assorted colors this morning.
I need to pick up a new blanket for my bed. The one we have always used can't take very many more washings before it falls apart. Need to get something before cool fall weather sets in. This is what I really want if I can find it at a good deal.
I am heading out soon. I hope everyone has a great weekend.