My mind is running in a frenzy today. It's spring. Yard sales will soon abound. I love thrifting don't get me wrong. Goodwill, thrift stores, antique shops. They all interest me. But there is not bargain like a bargain you can find at a yard sale.

I want to look for some of these cups and saucers. They are the vintage Bonnie Blue pattern from Fireking from the early 60's. They came in the oats boxes for free. Mom had a ton of them and I would like to find a set. I actually want two sets. One for me and one for Sis.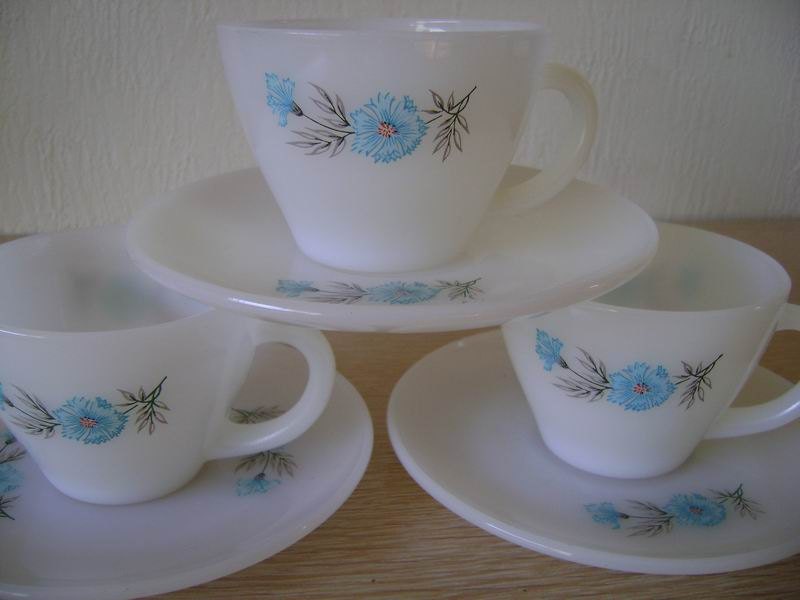 I would also like this jadeite cup and saucer.
I have been seeing this bowl on many sites lately. It would something good to add to my bowl collection.

I see a lot of cut glass candy dishes when I go to yard sales. Not that I would ever find anything this pretty, but it wouldn't hurt to look. Sometimes those cut glass candy dishes that people tire of actually end up to be vintage pieces and you can pick them up for a couple of dollars.
Same goes for milk glass. Some people just tire of what they have and don't realize its value and sometimes they are newer pieces not worth anything but look good in a collection. I really want one of the tall bud vases.
I am all the time wanting a little bit of milk or Koolaid. A regular glass is too big and a juice glass is not enough. These would be perfect. I love the shape of them.
I would also like to find some vintage jelly or peanut butter glasses.

I am heading out to a yard sale with my friend Sherrie this morning. It's the first official yard sale of the year that we have been to. Can't wait to see if we find anything. Do you remember me telling you about Listia.com? Well, I won an auction and will be getting this item for $4.00. I am thrilled.
I had 500 credits when I started and I've won two items and now have 400 and some credits still left. I decided to list one item to see if I could get any bids so I could earn extra credits for myself. I posted a pair of angel figurines. I had bought them at Family Dollar several years ago and never thought anybody would bid on them. I wasn't on Listia for a couple of days and decided to see if I had any bids. I was hoping they would bring in at least 100 credits. Well, the auction closed yesterday and the winning bid was 3,023 credits. Woo hoo! I can do some major shopping now. I'm bidding on a couple of items myself that are free shipping. So I may score quite a bit of free stuff to show you soon.
Well, off to the yard sale.