......Yard sales. Lots and lots of yard sales.
I got the call at 8:15 on Thursday morning. My friend and thrifting partner had just looked at the morning paper and yard sales abound for the weekend. And most of them within a 5 mile distance from our house. As I looked through the paper to see what was for sale, I realized this was going to be one of those MUST GO days. So we are heading out this morning.
There are four sales that list antiques, two that lists dishes and housewares, two estate sales, three with books, three with furniture, one with linens and two with collectibles. All these items are my sweet spot when I am yard sale shopping.
I would love to find some cute little jelly jar juice glasses or even regular juice glasses.
I am also on the lookout for floral valances for my office. Something bright and cheerful. Would even settle for something in a pretty stripe or calico print.
I am looking for a pretty pink vase or something that will go well on the little table with my new pink pitcher. Call me crazy, but since it has Columbus landing in America, I would love to find a children's book on Christopher Columbus.
I would love to find an inexpensive table to put in the kids room by the window. I still haven't found what I'm looking for.
Of course, I will be thrilled to find any of my favorite things to look for like Pyrex bowls....
Or some new piece of milk glass
Or perhaps something from the vintage Indiana Glass...
I would also like to find a snack plate with a cup.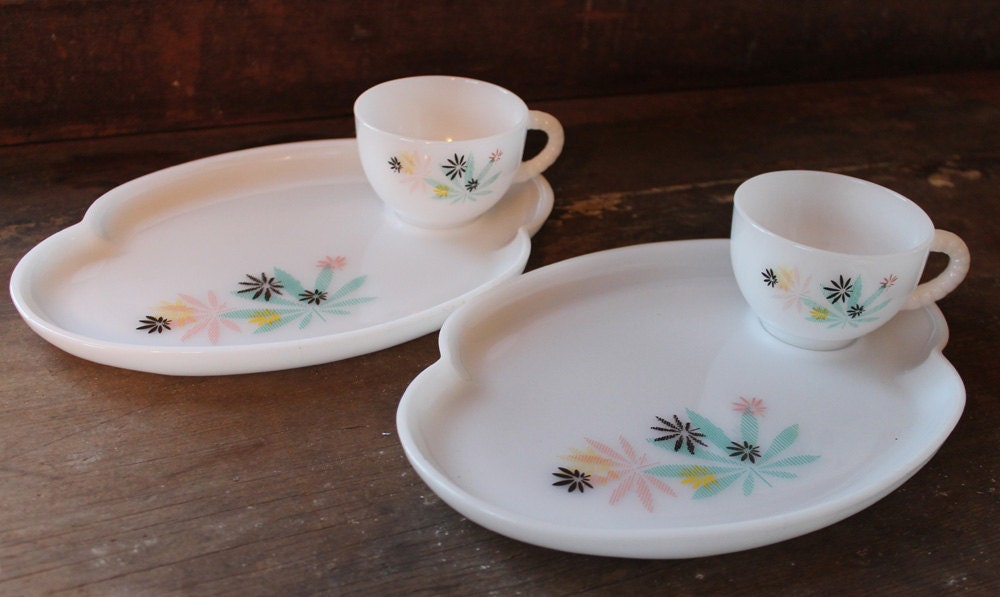 No matter what I find, I am hopeful that I'll get a few good deals today at least. There are showers going on in the area so that will probably keep a lot of people at home. But hey, that's why they make umbrellas. It's hard to tell what I will come home with.