As many of you know, I started a few months back collecting Pyrex. I don't have a large collection as I have mostly been purchasing my pieces at yard sales and thrift stores. Once or twice I have found a piece for a bargain at an antique store. The most I paid was $10.00 for a set of three nesting bowls. Which was a bargain.
I happened to come across an item on
E-bay
that is up for auction. The bid
is at $150.00 for this set. It is in mint condition and even has the original box. The pieces are reportedly new and never been used. But still, $150.00 for a set of bowls? For me, the fun part of collecting is finding the pieces at a bargain. But I do admit this is a pretty set. It will be interesting to see how high the bidding goes.

Most of my collection was found at yard sales for $1.00, but I did find this adorable Gooseberry Cinderella bowl for a quarter at a yard sale this summer. I am keeping my eye out for the rest of the pieces for this set.

It is funny because E-bay has four sets for sale that only have three bowls. Each set is missing the #441, which is the bowl I have. But they range in price from $42.00 - $69 for the other three bowls. I am not going to pay that since I only paid .25 for the first one. I did find some other bowls I liked on E-bay. That is where I look for ideas for my wish list. This would be perfect for meatloaf.

I would love to find at least one of these Hamilton Beach Pyrex mixing bowls.

I also like these mini casserole dishes.

This gravy boat would be perfect for Thanksgiving dinner.

Along with the matching butter dish.

And the coordinating serving bowls.

And the Corelle Harvest Home dishes would finish out a nice set for the holidays.
I am still looking for a full set of the Cinderella bowls. I just can't decide for sure what pattern I want them in. I really thought I wanted some Colonial Mist to replace the ones I had years ago.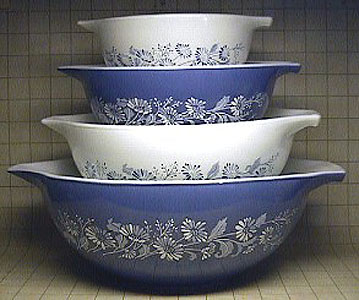 But I see many others that I would like to have as well. I also love the Amish Butterprint pattern.

But I also like the Sunflower Orange pattern.
I had never seen this one before, but it is pretty. It is the Orange Butterprint.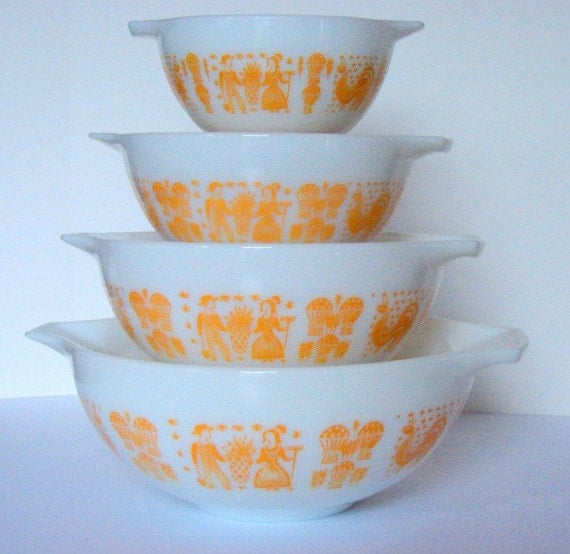 And I like the Turqoise Gooseberry.
I also love fridgies and would love to find some good deals on any of those.
I must be having a Pyrex day today. I think I'll pull out a couple of my bowls and make a cake and homemade frosting.