My week has gone by so fast so far. I worked Monday until about 9:30 that night and I worked on Tuesday until about 8:00. It's been crazy, but crazy good. I've been so busy that I've just jotted down notes on things all week and now my desk is a mess.
Yesterday, I took the day off to take three of my grandchildren miniature golfing. Colby (the 2 year old) was so funny. His daddy is a baseball coach so Colby loves anything to do with ball, but he is really big on baseball. He would take the golf club and knock the ball down the green, as any good miniature golfer would. Then he would drop the golf club and run as fast as his little legs could go and chase the ball. When he got it, he would turn around to me and yell "Mamaw, CATCH!" and try to throw the golf ball back to me. I think he was mixing his sports just a little bit. It was hilarious.
He is growing up so much. We walked into Wendy's and first I was asking Garret and Alexis what they wanted to eat and Colby says "Want a burger and sweet tea." A true Southerner with his sweet tea.
I'm so excited about something. I mentioned to a friend that I had been looking for a twin bed frame to created a "day bed" in the spare room. It turns out she has a day bed with a trundle that she never used. She is actually giving it to me...with the mattresses. I am beyond thrilled. She is a very dear friend and has such a kind heart. I am going to go pick it up tomorrow when it isn't raining. But today, I moved everything out of the way so I'm ready to set it up and get the room decorated. I'll have to take before and after pictures.
Hubby is taking Saturday off this week and we are finally going to go antique shopping in Jonesborough. We are waiting till Saturday because the weather is supposed to be in the 70's and no rain. Hope that is true. I love going there. It is a very historical town and I love the brick side walks and the horse drawn carriages.
And they have some amazing antique stores.
They have a lot of quilt stores and even some that sell quilting supplies such as fabric. I definitely want to visit there.
It's hard to tell where we will eat because they have a variety of unique little restaurants. We usually eat somewhere to have a light lunch. There used to be a place that served pinto beans and cornbread and they had the best thick cut fried bologna sandwiches. I would like to eat there if they are still in business. Then I'm pretty sure I'll end the day in the sweet shop with a cup of chocolate ice cream.
Naturally, I will be scouting for Pyrex. But it's been so many years since I was there that I didn't collect Pyrex back then. I'm not sure how their prices will be, but it won't hurt to look. I would love to find something in the turquoise scroll.
Or the barbed wire pattern.
But even if I don't find any Pyrex, I may find another Hazel Atlas piece. I would really, really be so happy if I could find one of their cowboy pattern coffee cups.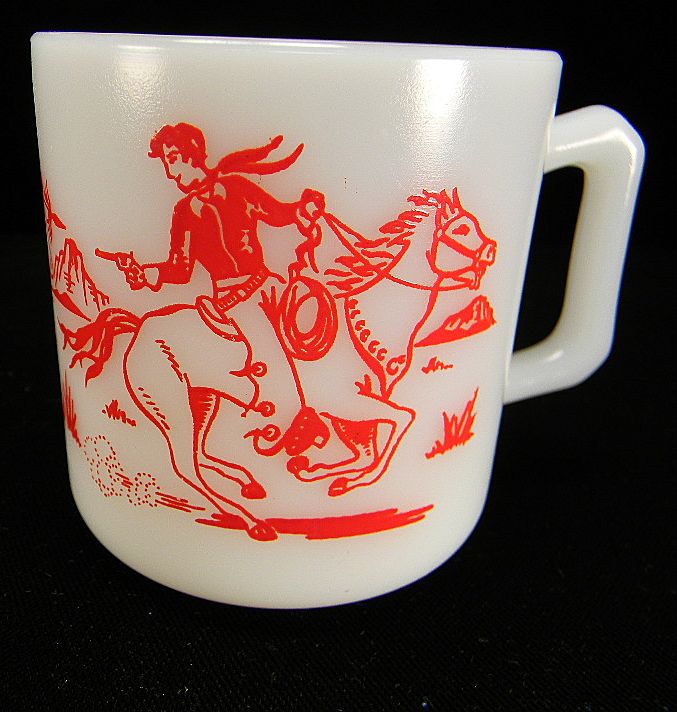 I'm trying to collect some unique coffee cups so I can use them for a vintage theme party some day. Cups and mugs are great items to collect because they can be used for so many uses. Obviously coffee, hot chocolate and tea. But you can also use them as pencil holders or toothbrush holders. I may just need to do a blog someday with all the uses of coffee cups.