I know it's not Christmas, but it is time to start planning on Christmas crafts I want to make and on decor. Hubby and I were discussing yesterday that we weren't going to fool with putting lights up on the house this year for Christmas. With his legs, it is hard for him to climb up and down a ladder. So we decided we are just going to look for a little tree we can tie bows on and put on the porch.
We also decided to put a wreath up on the front door.
Maybe something cute like this for the table on the porch. It would be so easy to make.
I saw some cute ideas on Pinterest as well for some things I would like to make this year. I would prefer to use a thin Christmas ribbon instead.
I would want a Santa key to put on it.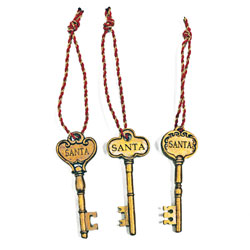 I would like to make these if we ever had enough cold temp for them to survive. You fill a balloon with color water, freeze it then pop the balloon and remove it.
I want to make myself one of these t-shirts or sweatshirts. I think they are so cute.
I guess I need to get busy and plan what all I want to make.