Sometimes late in the evening when there is nothing on TV, I like to scout around and check out vintage items on Pinterest, Ebay and Etsy. I like to look for things that catch my fancy in the hopes that I my find them "in the wild" someday. I don't order online. I like the thrill of scouring thrift stores, yard sales, estate sales, and antique stores to find what I want. But I do like online window shopping to get ideas.
The first thing I found this week that caught my eye was this Pyrex carafe. My favorite pattern in Pyrex is Town & Country which consists of medallions. They are sometimes all brown and sometimes they are a mixture of yellow/orange and brown. When I saw this beauty, I just knew I was going to have to start looking for one for my Town & Country collection.
I also stumbled upon this. But I am not sure who made it or how old it is. I forgot to write that down. But I do know that I think it is very cute. I would guess late 50's early 60's since it was pink. That seemed to be popular during that time.
One thing I found I had seen before but have never been able to find it in the wild. It is a pitcher that is made by Arcopal. Arcopal is a French based company that has made Pyrex for sales in France for years. These are some of their earlier pieces that I really like.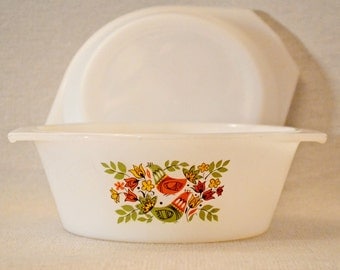 Just thought I would share some of these designs with you today. Hope you enjoyed them.