I received a Pyrex pie plate yesterday that I traded for. Now to learn how to bake a pie.
Well, actually, I can make one pie. I don't eat pie except for Graham Cracker Pie and I do know how to make it. Make a graham cracker crust, heat in the oven about 5 minutes to "set" it, add instant vanilla pudding, make meringue with egg whites and sugar, cover meringue with graham cracker crumbs and heat in oven till the meringue is browned just a little. I think I may make one of these this weekend.
I am going to an estate sale this morning. It has tons of stuff from what I am led to believe. We will see. I am looking for my normal vintage items, but the main thing I want is a piece of furniture for my home office. I would love to have a new used desk. Perhaps something along these lines.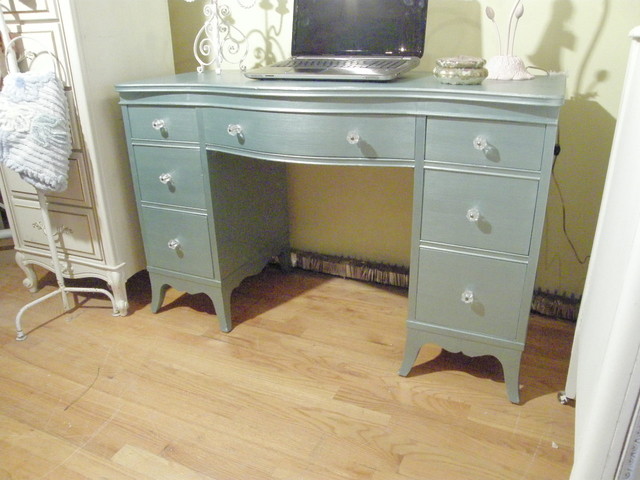 I would be thrilled to find some type of chest for my craft room.
But the one thing I am really looking for is a table for the craft room. In a perfect world I would love a drop leaf table, but they are so hard to find at a good price.
I am also going to be on the look out for curtains. Something along the lines of lace with a valance.
And I would love to find a vintage tablecloth with pink, blue or yellow flowers.
I know I am dreaming that I will find any of these today. However, starting this morning I have a four day weekend to scout around for some bargains. Maybe something will turn up.