I am 57 years old and have worn nail polish on my nails just about every day of my life since I was in 8th grade. It is one of my obsessions. At one time, I owned over 80 bottles of nail polish. I don't have near that much now, but I am always on the hunt for new colors.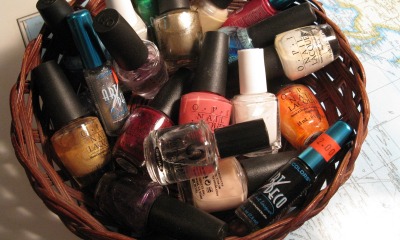 But in all those years, I have never once had a full blown manicure done. I went to a nail salon one time in my life and just had them paint them red for Christmas. Nothing fancy. It just cost me $3.00. Then I thought what a waste of three bucks when I could do my own.
However with all the new manicure "themes" I am seriously debating treating myself to a birthday present and getting my nails done for Christmas...not fake nails, just a fancy mani. So I did what I do best when I have a thought...I went to Pinterest. Here are some of my favorite Christmas manicures.
I love 4 solid and 1 glittery...for any occasion.
Since I love red and white together and I love candy canes, this might be cute to do.
I love snowmen, but just don't think I could handle blue nails all of Christmas. These might be a cute January theme.
This is basic but simple. I really like the sparkle.
I do like the snowflakes on the red.
I like this, but would go with red instead of gray. Maybe a burgundy to match Rudolph's nose.
Of course, I could order some Jamberry nails. I am adoring this set.
And look at the wide variety of Christmas selections.
Decisions, decisions, decisions. Stay tuned....