One day next week, I am going to be visiting some new antique stores I haven't been to before. I am looking forward to getting back to my Pyrex hunting. I have been trading and selling Pyrex pieces pretty heavy since November. I have my set down to colors and patterns I like of what I had.
But there are still some colors I do not have that I would like to get. My one piece that I would love to find and would be thrilled even if that is the only thing I find and that is the 403 Friendship mixing bowl.

I wouldn't mind if I found any of the butterfly gold mixing bowls.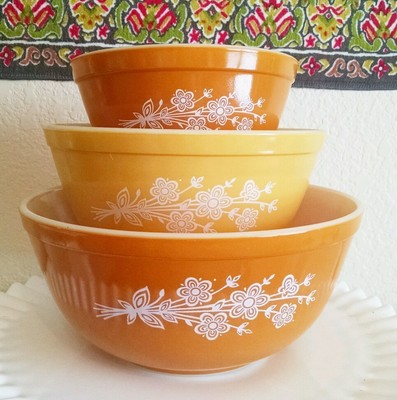 One of these days, I want the Butterprint pattern in the new Pyrex line "Vintage Charm". I started to buy them at the local Corelle outlet and didn't. I need to go back over there and pick up a set.
I have never cared for the dot bowls in Pyrex, but I love the vintage Hazel Atlas that came in the dots.
This isn't vintage, but I am on the hunt for the Pioneer Woman's cookie jar. My Walmart has never carried it and when I go to Knoxville to Walmart, I forget to look. I need to put this on my list so I can see if I can find it.
Those are just a few of the things I am looking for. Wish me luck!